Ahhh weddings...they're wonderful celebrations of love, happiness, and a lifetime of debt from your huge reception.
I joke, I kid!
But seriously, weddings are so much fun. Until they're not. Whether it's Aunt Sally drinking too much or a bridesmaid sloppily hooking up with an underage cousin on the dance floor -- they can turn bad (and hilarious) real fast.
Thankfully, some genius souls caught a bunch of these wedding fails on camera. Just pray these never happen on your big day.
1. This bridesmaid put her best face forward in an effort to catch the bouquet...
2. It was definitely someone's job to be the spotter.
3. I mean, that's what you get when you have penguins at your wedding. Duh.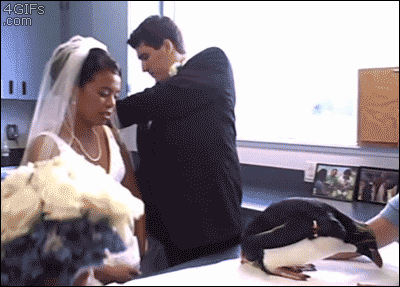 4. In all fairness, it was a really long ceremony, guys.
5. Shoulda had a smaller bridal party.
6. They were a little too ambitious with their entrance.
7. "I get knocked down, but I get up again..."
8. Where are the bridesmaids when you need them?!
9. Brush it off, Todd. Brush it off.
10. That's what you get for inviting your second cousin twice removed who's an "entertainer" to the wedding.
11. Wedding dominoes!
Well, these are enough to make me want to just get hitched at city hall!